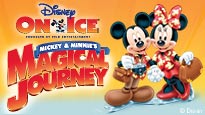 Disney on Ice can bring the Disney experience to you if your city is hosting Mickey & Minnie's Magical Journey. Disney on Ice is coming to Houston and my family has been invited to attend thanks to Mom Central and Feld Entertainment. We are excited to have the opportunity to attend because it's the closest we will come to a Disney experience with our two young children anytime in the near future.

Better yet, one of my Houston readers will win 4 tickets to Disney on Ice for the April 15 evening performance at Reliant Stadium in Houston. But wait, there's more! Since I've got tons of readers that don't live in Houston, I decided to contribute something to this giveaway myself. Four of my readers will win $25 Disney.com e-gift cards. So there will be five winners in this giveaway!

Remember that all of my readers who live near a city that Disney on Ice is coming to can save money if they buy tickets using this coupon code: MOM. You'll get 4 tickets for $44 by using this code when you purchase tickets through Ticketmaster. Just enter the code MOM in the MC Promotion Box. Please visit Mom Central for more details on the discounted tickets offer.

Want to enter this giveaway for a chance to win? This giveaway will close Thursday, April 9 at midnight (CST). The email addresses that I collect for this giveaway will only be used for the purpose of contacting the winners, and will never be given to anyone. I'll announce the first name of the winners in a new post the next day and contact the winner by email. I will draw the name of the winners by using the random number generator at Random.org from the eligible entries received. If a winner does not contact me within 48 hours by email, I will draw a new winner. This giveaway is open to residents of the United States who are 18 years of age or older. The winners will receive information about obtaining their Disney on Ice tickets from Mom Central, and the Disney.com e-giftcard winners will receive them from Freebies 4 Mom.

You must complete this form to enter this giveaway. Required questions have been marked. Please enter this giveaway only once per household (duplicate entries will be deleted).

This giveaway has closed.

Good luck and remember that you need to complete the form to enter this giveaway. You are welcome and encouraged to post comments here, but any comments will not be considered as entries in this giveaway. Just for fun, please leave a comment and tell us why your kids would love to see Disney on Ice?

Thanks for entering and come back Friday, April 10 to find out who won.

Find out about other giveaways you can enter right now.
Subscribe to Freebies 4 Mom and keep up with the free stuff!